"Once upon a time.........., in the "Crossing"
I grew up in Stephenville Crossing on Newfoundland's west coast. The town is located near the "bottom" of Bay St. George. I learned some time ago, that one has to be careful when referring to the bottom of the bay. The "head of the bay" is the more common expression today and some people might assume that you are referring to "Davy Jones' locker". The town is built on a barachois, a bar of sediment deposited by Harrys River and shaped by the currents of the bay. A gut or opening in the sand bar is maintained by the outflow of the rivers inside the barachois and also allows the ocean tides to flow into and out of the inner bay on the tidal cycle.
With the arrival of the railway in the 1890s, the town assumed a new name, one that describes the town as the railway "crossing" for the nearby town of Stephenville.
As a kid growing up in the Stephenville Crossing of the 1950s, I remember a busy town with dusty roads (pre-pavement). There was at least one eastbound and one westbound passenger train per day, not to mention the freight trains that passed through town in the middle of the night. Freight was unloaded from the trains onto trucks and transported to the town of Stephenville and other towns on the Port au Port peninsular.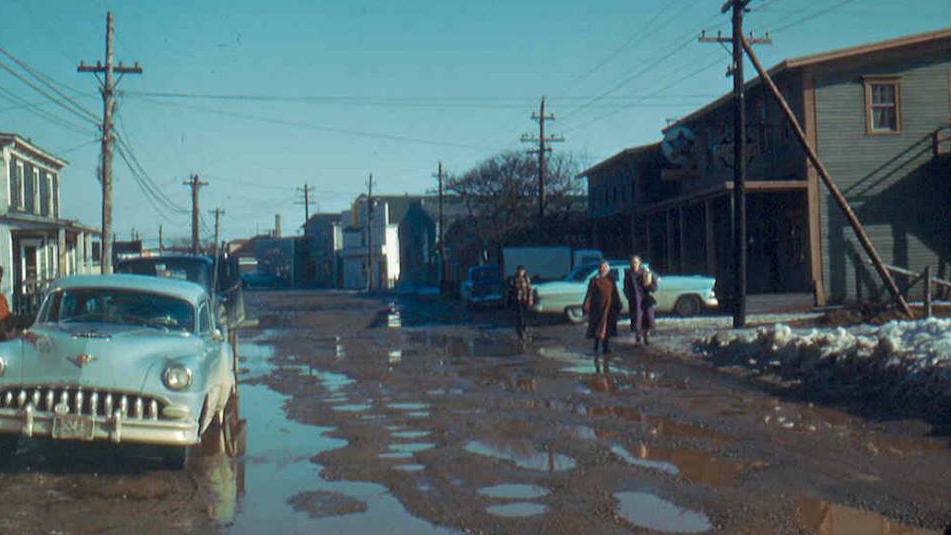 The Dirt Roads of the 50's
Pulp wood which arrived at the Crossing via Harry's River was being loaded onto flat railway cars at "the dump" to be transported to the paper mill in Corner Brook.
Went by the "dump" regularly, on the way to  school
For kids growing up in the Crossing in the 1950s, the Saturday Matinee was the most exciting time of the week. The kids congregated on the Main Street, in front of the Uptown Theatre. Some arrived with their stack of comics to trade, buy and/or sell.
The movies were not necessarily new. Hopalong Cassidy of 1940s vintage was quite common. The movie was usually preceded by some newsreels and/or a chapter of a serial (known today as a series), a continuing story of usually 15 chapters, where each chapter ends with a cliffhanger.
Ah yes….. Once upon a time in the "Crossing".